View Cart
Home
Benefits
Buy
Divya Mukta Vati
Ivy's Mukta Vati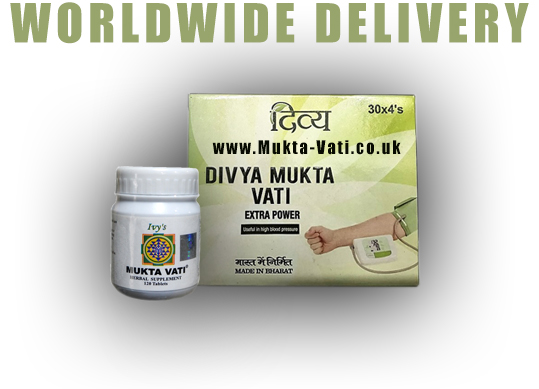 FREE WORLDWIDE SHIPPING ON ALL ORDERS OVER £50

We currently stock two brands of Mukta Vati; these are Divya Patanjali Swami Ramdev Mukta Vati and Ivy's Mukta Vati

Mukta Vati is a natural remedy for high blood pressure. The herbs present in Mukta Vati are natural and provide high blood pressure herbal cure. It is combination of natural remedies for high blood pressure. High blood pressure is not a disease but it may accompany other serious diseases. People start taking conventional drugs for high blood regularly which may give negative effect on their health.

There are different causes of high blood pressure. It may become high due to excessive intake of salt in the diet. People who eat fried food or junk food may also suffer from heart problems along with high blood pressure. People who lack exercise and eat more may also suffer from heart ailments. Mukta Vati is a natural and herbal remedy for high blood pressure and it provides quick relief from high blood pressure. It has given wonderful results in people who suffer from heart problems of high blood pressure. It may be taken regularly and it does not produce any side effects. Mukta Vati is a natural remedy for high blood pressure and it helps to regulate the flow of blood to all parts of the body.

Benefits of Mukta Vati


Mukta Vati is a high blood pressure herbal cure and all the herbs present in this remedy are natural and safe for people of all ages.
Mukta Vati may be taken along with conventional remedies as it does not interfere with any other remedies.
It is a wonderful natural remedy for high blood pressure as it also helps to control the blood cholesterol level.
It gives quick relief from symptoms that are associated with heart problems such as pain and breathlessness.
It consists of natural herbs that regulate the flow of blood to heart and other major organs of the body. It helps in the optimum functioning of the heart.
Mukta Vati is believed to be a wonderful heart tonic as it provides great relief from other heart ailments naturally without affecting other parts of the body.
Mukta Vati is beneficial for people who are prone to suffer from heart diseases. It may be started early in life and may be taken regularly to promote normal functioning of the heart.
Mukta Vati helps to eliminate harmful chemicals and salts from the body to control blood pressure naturally.
It also helps to control associated symptoms such as nausea, headache, dizziness and blurring of eyes.
Information
About Us
Contact Us
Shipping/Returns
Terms
Privacy Policy
Disclaimer